by Silvana Rueda
According to the American Lung Association, as many as 6,000 adolescents under the age of 18 start smoking each day, amounting to 800,000 new adolescent smokers annually.  We're all familiar with the typical psychosocial influences on adolescents (peer pressure, parental influences, advertising, etc), which lead to tobacco experimentation, but recent studies shed light on a new biological reason behind teen smoking and cigarette addiction.  According to a study by the UC Irvine Transdisciplinary Tobacco Use Research Center (TTURC), the rewarding effects of nicotine have a greater response in the adolescent brain than in the adult brain.  Furthermore, researchers also discovered that the first exposure to nicotine produces a greater subsequent behavioral response in adolescents than in adults.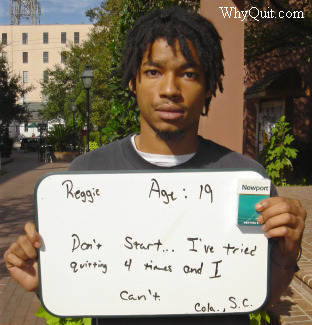 In a study reported on by Science Daily, James Belluzzi and Frances Leslie, tested adult and adolescent rats in controlled environments, monitoring the reinforcing effects of nicotine.  The animals were put in a cage with two distinct chambers, one of which exposed them to nicotine; not surprisingly, the rats preferred the chamber in which they would receive the rewarding drug.  Researchers also discovered that nicotine reinforcement was greatest in adolescent rats.  Following one brief exposure to nicotine, researched noticed extreme motor excitation and increased physical activity in adolescent rats, compared to adult rats.
Nicotine functions like any other addictive drug – by stimulating the release of the neurotransmitter dopamine, in the part of the brain which regulates rewards.  By activating this area and increasing levels of dopamine in the brain's reward circuits, nicotine produces feelings of pleasure in the smoker.  Other properties of nicotine include the rapid distribution of the drug through the brain; nicotine levels peak within 10 seconds of inhalation, stimulating dopamine release.  However, within a few minutes the acute effects of nicotine disappear, including the associated feelings of pleasure, causing the smoker to continue using the drug, to maintain the drug's pleasurable effects.
These properties are what make nicotine a very addictive substance.  And this research indicates that nicotine is even more addictive for adolescents than adults, which helps explain why approximately 90% of smokers begin smoking before the age of 21, according to the American Lung Association. Clearly, the danger lies in cigarette experimentation; once adolescents experiment with smoking, they'll be more likely to get addicted than adults.  Such information promotes the fact that even more emphasis should be placed on discouraging adolescents from smoking.  That first cigarette is no longer as innocuous as it once seemed.